Over the past 50 years, we have built a reputation for being one of the highest quality sanitary stainless steel fabricators in the U.S.
The Holland Fabrication Group offers a broad range of capabilities for both sanitary process end users and OEMs. We design and build custom sanitary stainless steel fittings, process components, custom sanitary manifolds and complete sanitary process piping assemblies in our state of the art fabrication shop. We also build Hastelloy and AL6XN assemblies. Along with our custom fabrication capabilities, we offer a line of unique specialty hygienic stainless steel components.
If you have a custom sanitary process piping application, call us at 800-800-8464. We can help you with your design and work with you to come up with the most cost effective, high quality solution for your application.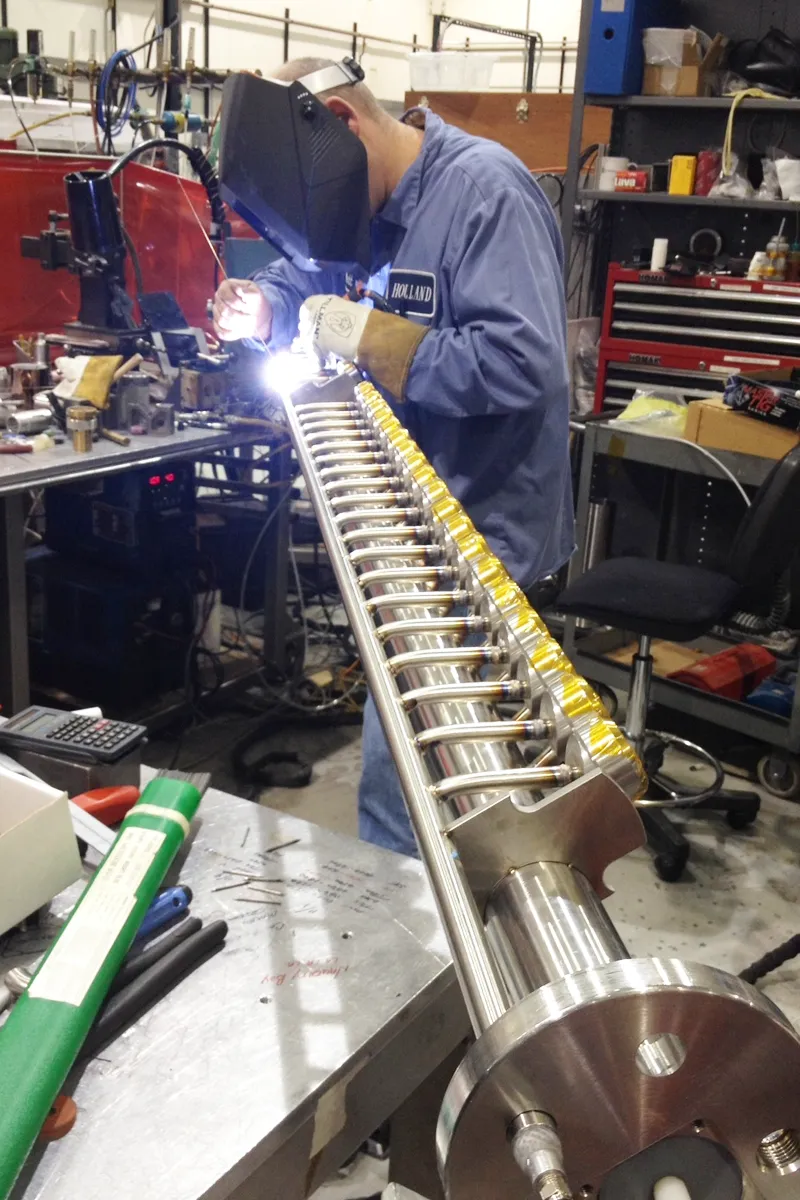 Sanitary Fabrication Capabilities
Design
All of our custom sanitary piping fabrications are drawn on an AutoCAD network with a document control system to guarantee revision control on all drawings. We will send you approval drawings before starting production.
Fabrication
We offer extensive stainless steel machining services. We have both CNC lathes and milling equipment. All of our tools are dedicated to stainless steel or more noble alloys only.
Welding
Wherever possible, welds are made using automatic or semi-automatic welders. All sanitary welding is done using cryogenic Argon. All of our orbital welders have automated Oxygen sensing systems.
Polishing
We have an isolated polishing shop with an air purification system. We can offer surfaces finished as low at 10Ra. Electropolishing and passivation services are also available.
Materials Control
Raw material is inspected using a X-Ray based alloy analyzer. Heat numbers are marked on all 316L fittings & tubing using computer-controlled pin stamping equipment.
Quality Control
We 100% inspect all of our fabrications. All welds are inspected. Surface finishes are tested with a profilometer. A video recording of the weld inspection is available upon request.
Who Uses Our Custom Fabricating Services?
What Our Customers Have to Say…
"Holland will put in the time and effort up front to fully comprehend complex processes, resulting in a system that meets, and frequently surpasses, expectations."

Process Engineer – Pharmaceutical Contract Manufacturer
"Holland has been a reliable partner for many years. They have the ability to support our business thru their vast inventory of repair components, onsite field service and new replacement components. Holland has been proactive in providing recommendations for repair kits as well as carrying safety stock at their facility to support our specific needs."

Operations Manager – Food Processing Facility
"Holland understands our need for not only quality products, but the detailed documentation and material traceability required in the pharmaceutical industry. We've used their Document Locator tool to help manage documentation for our production equipment. It's been great to have a historical record of documentation covering our long-term relationship."

Quality Manager – OEM of Single Use Biotech Equipment
""Holland Applied is a business partner that I find to be highly trustworthy, competent, and customer focused. We keep using them for our machining and fabrication needs because we know we can rely on them to provide high-quality goods on time and at competitive market prices."

Head of Procurement – Injectable Drug Manufacturer