Introducing the New Quattroflow QF2500 Quaternary Diaphragm Pump
As the sole Quattroflow distributor for the greater Midwest, Holland Applied Technologies is pleased to announce the launch of the newest addition to the single- and multiple-use Quattroflow Quaternary Diaphragm Pumps product line—the Quattroflow QF2500.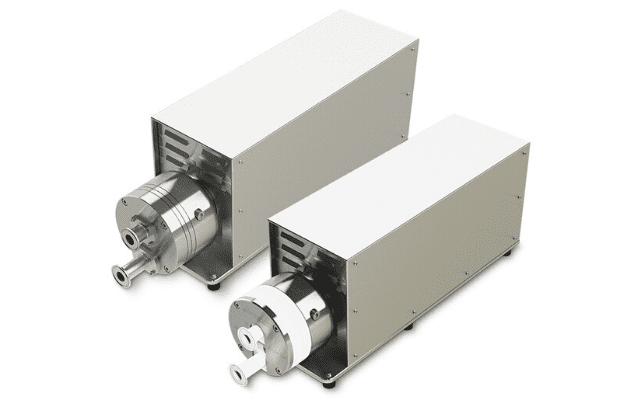 With a maximum flow rate of 2,500 lph (660 gph), the QF2500 is ideally suited to meet the needs within demanding biopharma applications. Typical applications for the QF2500 include chromatography, TFF, virus filtration, sterile filtration, and depth filtration. In terms of flow range, the QF2500 fits nicely between the existing QF1200 (max. 1,200 lph) and the QF4400 (max. 5,000 lph) pump sizes.
The QF2500 offers design enhancements for both the multiple-use and single-use pump chambers that provide excellent drainability to maximize product recovery. The QF2500 pump also features a self-draining design, 125:1 turndown ratio, high flow stability even at low flow rates, linear performance, and clean-in-place (CIP) capability.  In order to improve the drainability and venting of the pump chamber, the new patent-pending design of the valve plate features two outlet valves per chamber. These valves are located at the highest and lowest position of each chamber and thus allow both full drainability and significantly improves the venting capability.
The QF2500 single-use heads are available in a polypropylene pump chamber which is ideal for high temperature and steam-in-place (SIP) applications. Like many of the other QF single use pump chambers, the QF2500 single use pump chambers are available with gamma irradiation. All soft parts for both the single- and multiple-use heads are fully characterized, made of USP Class VI materials with extractable and leachable reports available.
The standard QF2500 pump is offered with a 3 phase, 230/400V motor with forced cooling-fan. The pump head is connected to the motor via motor flange which significantly simplifies the coupling alignment and also helps to reduce noise and vibration created by the coupling.  Customized versions of the QF2500 pump head coupled with different motors, such as a servo motor, is also available.
Quattroflow, part of PSG®, a Dover company is a leading brand of quaternary (four-piston) diaphragm pumps that primarily serve industries such as pharmaceutical and biopharmaceutical that require gentle displacement, reliability, product safety, purity and cleanability. The Quattroflow pump is a gentle and low pulsation pump and is available in both stainless steel (multiple-use) and single-use pump chambers. The Quattroflow series of pumps covers a wide range of flow rates from 1 lph to 16,000 lph. Holland Applied Technologies has years of experience working with the Quattroflow pumps. For any inquiries or technical assistance with your next biopharmaceutical application, feel free to reach out to a Holland Sales Engineer today.