Bioflex Ultra Hose
| | |
| --- | --- |
| Manufacturer | Aflex Hose |
| Product Line | Bioflex |
Aflex Bioflex Ultra is a smoothbore, highly flexible, PTFE lined hose. Its design overcomes the disadvantages of conventional smoothbore and convoluted PTFE flexible hose designs, dramatically improving on many of their individual technical performance parameters.
The key feature of Bioflex Ultra PTFE hose is the PTFE liner design, which comprises integral rib sections which support the tube against kinking, vacuum and pressure, and highly compressed web sections which gives a smoothbore inner surface and excellent flexibility.
Another feature of Bioflex Ultra is the integral PTFE lined and flared end fitting design which is available for all the standard end fittings on Bioflex Hose Assemblies. This Bioflex Ultra feature provides clean, full-bore flow through the end fitting without any entrapment points – unlike conventional fittings, which introduce a bore restriction, also a crevice at the end of the fitting tail. This PTFE lining also protects the end fitting from any corrosive media passing through the hose bore. Today, Bioflex Ultra has become the established standard in process fluids applications all over the world, and continues to be introduced into new applications every day.
Bioflex Ultra Liner Materials
Bioflex GP – General Purpose PTFE Liner: Bioflex GP is the 'General Purpose' grade, for use in all applications where fluids or gases are being conveyed which do not generate a risk of static charge development (see"AS").
Bioflex AS – Anti Static PTFE Line:is an essential requirement in applications where there is the risk of an electrostatic charge build-up on the inside surface of the PTFE tube which may then discharge through the tube wall.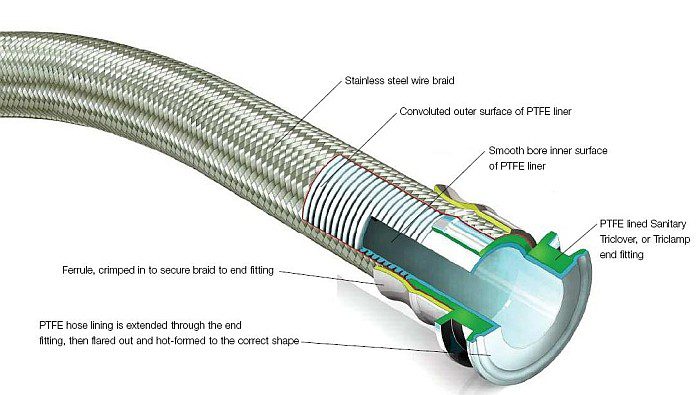 Bioflex Ultra Cover Material Options
SS – Stainless Steel Braid: Stainless Steel braided hose is the general purpose product, and can be used in applications involving high temperatures and working pressures. High tensile AISI 304 stainless steel wire is used, to give maximum pressure resistance and external protection to the hose.
TO – Tube Only (no braid): TO grade hose (available in both GP and AS) is a lightweight hose, used in applications where working pressures are low and where there is no need for the physical protection offered by an external braid. TO grade is not vacuum-proof. TO grade tube is not normally helium tested.
PB – Polypropylene Braid: Polypropylene braided hose is often preferred to SS in applications involving frequent handling and movement of the hose, and where termperatures are within the range of -30 deg C and +100 deg C
HB – Hastelloy Braid (C276 grade): Hastelloy Wire Braid is used instead of SS where severe chemical corrosion conditions exist around the outside of the hose.
KYB – Kynar Braid: Kynar Braid is used for the same reasons as HB above, but only in applications where the reduced pressure and temperature ratings of KYB are acceptable.
RC – Rubber Covered: For the most rugged applications where the hose may be subjected to rough treatment and severe external abrasion.
SI – Silicone Rubber Cover: Similar applications to the RC hose, but where the hose may be required to withstand temperatures up to 180°C. SI grade hose is semitransparent, allowing visual monitoring of the braid.
FP – Fireproof Rubber Covered: As for RC hose, but where the hose is also required to resist failure in the event of fire, in accordance with Specification BS5173 Section 103.13
Bioflex Ultra Operating Temperatures with Different Cover Materials (Internal Fluid Only)