Erlenmeyer Flask Systems
| | |
| --- | --- |
| Manufacturer | Saint-Gobain |
| Product Line | Bio-Simplex |
The number one choice of the biopharmaceutical industry in single-use Erlenmeyer Flask assemblies, Bio-Simplex Erlenmeyer Flask Closures are now available solo (Closure Assembly) or with a standard polycarbonate flask (System). The Bio-Simplex Erlenmeyer Flask Closure Assembly features the EZ Top® assembly,made from pharmaceutical grade C-Flex® thermoplastic elastomer (TPE) resin and tubing, and is engineered to ensure an unobstructed fluid path, extremely low levels of extractables and a secure elastomeric seal against plastic, glass and metal surfaces.
The Erlenmeyer Flask Closure Assembly includes C-Flex® tubing with a choice of either male Luer connections or CPC®quick disconnect fittings, a Bio-Simplex FlexJoint, 0.2 ?m vent filter and polypropylene cap. Economically designed for the single use market, both the Bio-Simplex™ Assembly and System eliminate cleaning and contamination from repeated use. They are easily used with sterile connecting devices and thermal tubing sealers. Standard configurations include 2 port configurations in 1, 2 and 3 Liter sizes, available as individually packaged Bio-Simplex Closure Assemblies or a complete packaged Bio-Simplex Erlenmeyer Flask System (Bio-Simplex™ Assembly, Erlenmeyer Flask and cap). Both come gamma irradiated.
Customer-generated designs, sizes, packaging and other options –– such as connectors, heat-sealed ends or alternate materials –– are available as custom orders.
Closure Assemblies come with either CPC® Quick Disconnect or male Luer connections. Bio-Simplex Erlenmeyer Flask System comes with standard male Luer end fitting.

Pharmaceutical grade C-Flex thermoplastic elastomer (TPE) tubing material is compatible with sterile connecting devices and tube welders.

Standard polypropylene cap

Bendable, patent-pending Bio-Simplex Flex Joint retains shape and eliminates kinking.

Gamma irradiated to ensure sterility.

0.2 ?m vent filter allows sterile gas exchange

Thermal bond between stopper and tubing prevents compromise

EZ Top Closure Assembly of high purity pharmaceutical grade C-Flex TPE elastomers provides integral seal to glass, plastic and metal.

Bio-Simplex™ Closure Assemblies are available in 1, 2 or 3 liter sizes.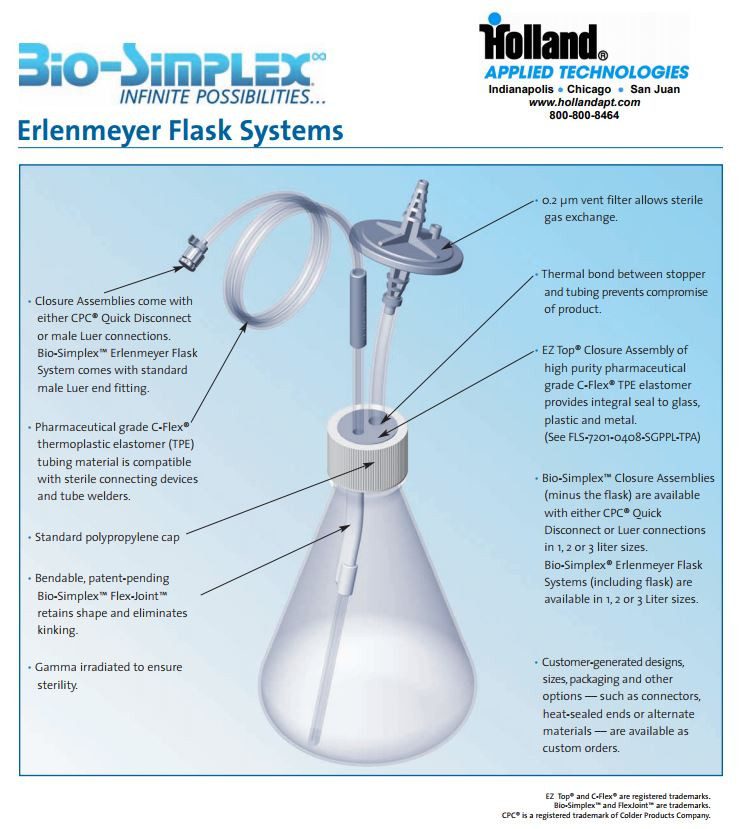 Bio-Simplex Erlenmeyer Flask Systems Part Numbers
| EMF SIZE | ASSEMBLY (NO FLASK) w/Luer Connection | ASSEMBLY (NO FLASK) w/ CPC quick disconnection | Assembly INCLUDING FLASK w/Luer Connect |
| --- | --- | --- | --- |
| 1 Liter | EMF1L-LC-EZ-R | EMF1L-QD-EZ-R | EMF1L-LC-R |
| 2 Liter | EMF2L-LC-EZ-R | EMF2L-QD-EZ-R | EMF2L-LC-R |
| 3 Liter | EMF3L-LC-EZ-R | EMF3L-QD-EZ-R | EMF3L-LC-R |