The APV W+ Centrifugal Pump
Holland Applied Technologies has been an APV distributor for many years.  But recently, APV was purchased by and moved to SPX Flow Products in Delavan, Wisconsin.  This move has allowed APV to streamline their manufacturing and deliver products in a timelier manner. 
APV can now ship many of the W+ series centrifugal pumps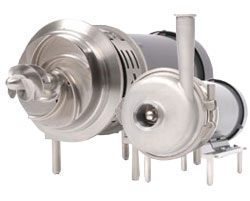 in a matter of a few days.  Improved reliability, efficiency and design has brought this W+ Series pump to the forefront of sanitary centrifugal applications. 
Some of the features of the W+ Series pump include:
Advanced, high efficiency impeller design to minimize turbulence and reduce NPSH
Internal mechanical seal fully lubricated by the product to extend seal life
304 stainless steel motor adapter to prevent corrosion and eliminate paint
Front loading seal on single mechanical types allows for fast and easy maintenance
Many sizes to accommodate different flow and pressure situations
Only two seal sizes for the whole range of W+ pumps
 W+ Series Inducer Option
The APV W+ Series Inducer Option can reduce NPSH requirements by 50-70%.  It is recommended for CIP Return applications as a replacement for cumbersome and expensive Liquid Ring type pumps.  The Inducer is a "Screw/Auger" type device located on the impeller/shaft that feeds the impeller to allow either higher viscosity products or liquids with entrained air to enter and exit the pump easier. 
Call us at Holland Applied Technologies for more information and data sheets on the APV W+ Series Centrifugal pump line.