What the Consultative Process Means for Our Clients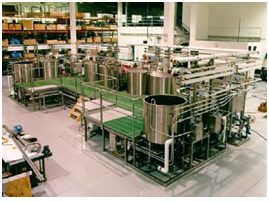 Throughout the entire process of food production and distribution, from farm to table, hygiene and sanitation standards are critical. At the federal, state, and local levels, numerous regulations exist to promote the safe handling of food and beverages alone. At Holland Applied Technology, we play a vital role in one of the most integral parts of the food manufacturing process: the development of components and systems that meet the standards and design criteria for safety and sanitation.
Did you know that the environment of the facility affects the way a system, like the filling cooking skid system above, can be designed?
Well, we certainly did. That's because we are not simply the manufacturer that builds to the drawing; if a client isn't certain of their needs, we help them get there. On our 40,000 sq. ft. manufacturing floor, we have the technical expertise and the process knowledge to promote sterilization at the component level and complete testing to be sure the part or system will function in the manufacturing environment.  If you've been following our blog, you've probably started to see these 3 ways our expertise affects the client experience:
1.      Consultative Process
We collaborate with our clients, from purchasing managers to process engineers, in food and beverage, as well as biotech, pharmaceutical, personal care products and other high purity industries, on designing parts and systems.
2.      Problem Solving
Whether it's designing a new component, or refabricating parts that are no longer manufactured by the original source (see our blog on sanitary butterfly valves), we are continuously improving as we problem solve with clients.
3.      Responsiveness to Customer's Changing Needs
With our infrastructure and distribution center, we can quickly supply spare parts or create new parts (see our blog on biopharm filling operations). Over the course of our 109 years in business, we've evolved with industry standards and best practices.
Whether its sanitary pumps, valves, fittings, hoses, tubing, you name it, we supply it. And, if we don't, we can build it. We're proud to be one of the few people that do it all.